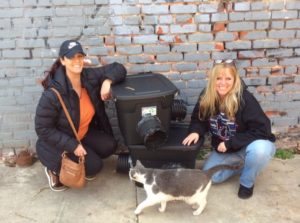 Philadoptables, in partnership with Best Friends Animal Society, Project M.E.O.W., and the Granny Project, has sponsored THREE recent events to help out Philadelphia's community cats this winter!
On October 16th, 2016, at ACCT Philly's Hunting Park campus and again on December 3rd, 2016, at the Beaumont Warehouse, cat lovers from all over Philadelphia came together to learn how to build shelters for their outdoor four-legged friends. Over 200 shelters were built and taken back to the community by workshop attendees. These shelters provide outdoor cats with a safe, warm home during inclement weather and are critical to their survival during the cold winter months.
Additionally on January 16th, 2017, more than 50 cat lovers came together at ACCT Philly on MLK Day of Service to construct 50+ additional shelters for Philadelphia's homeless cats. It was another really great day for community cats, caretakers, trappers and community service volunteers.
Hooray for warm kitties!
See more pictures from the workshops below and follow us on Facebook to stay up to date on future events.