Earlier this year ACCT Philly Dog Lead Keith emailed us asking us to help with a volunteer running team he wanted to get off the ground at the shelter. Other than the occasional potty break the dogs stay in cages all day. We thought this was a fantastic idea and ordered a bunch of Martingale collars and leash belts. After that we kind of forgot about it until we received this amazing note on Friday! YAY!!!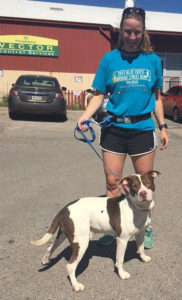 Dear Philadoptables,
I'm one of the Team Leads for the new running program at ACCT. You recently donated martingales and running belts to ACCT for us to use and I wanted to say thank you!! I've been running with dogs for years, and with these supplies we can now safely run with dogs at ACCT. Running with dogs keeps them physically stimulated and for many, it calms them down so they're not acting crazy in their kennels in front of future adopters. We'll be rolling out the program to the other interested volunteers in the next few weeks after we make sure we have the kinks worked out, and I'm confident we'll all have a better running experience because of the supplies you donated.
Thanks again,
Kathryn (running with Payton)