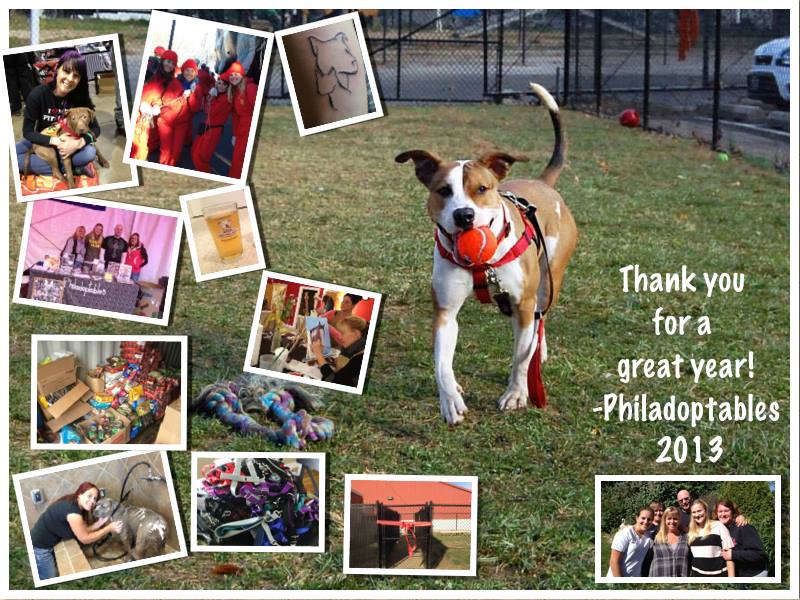 In reflecting over our very busy year we would put together a list of all of the things Philadoptables has accomplished in 2013 which answers the question "Why are we so tired?"
-We took adoptable dogs to the Tattoo Arts Convention again
-Volunteer appreciation breakfast at the shelter
-Major sponsor of the shelter's new laundry room
-Love Potions mix and mingle fundraiser
-5 appearances on Eye Opener PHL 17
-Paint Your Pet fundraiser
-Volunteer appreciation dinner with another non-profit at Benny The Bumm's
-Sponsored advertising for these on-site adoption events: Spring Break, Be Mine, St. Pitty & Kitty's Day
-Board Members volunteered at All Paws on Deck weekend long adoption event
-TV appearance with Carol Erickson
-Skin Art for the Animals tattoo fundraiser with 8 tattoo shops
-Beer glass fundraiser- Kiss-a-Bull Brew and Striped Tail Ale
-Held adoption events for ACCT Philly animals at a few different locations
-Crazy Pet Costume Contest
-'Harness Your Love' harness drive for shelter dogs
-Planned a

Friday

Fun Night for shelter volunteers- volunteering, food, and fun!
– Donated clinic supplies such as 4 pulse ox machines, 3 surgical lights, clippers, blades, Feliway for stressed kitties and supplies for off-site adoption events such as tents, custom table cloths, banners and more!
-Sudsy

Sunday

dog wash at Pet Valu
-Kitten Milk Replacer (KMR) and kitten pate donation drives with matching donations from us!
-Built and donated 5 more play yards for shelter dogs
-Had a "Hunks for Hounds" calendar fundraiser created for us by our friends at Viola Design Services
-Awarded grants by Animal Farm Foundation, Google, Best Friends' No More Homeless Pets Foundation, Banfield, Bissell, and other industry leaders
– Named a "Great Non-Profit" by Great Non-Profits organization- a real feather in our cap!
-All year long- collected and donated over 150,000lbs of cat and dog food to the shelter's pet food pantry, foster parents, and rescue partners.
-Manned a giant balloon in the 6ABC Thanksgiving Day parade
-Participated in Camp Out for Hunger- a week long pet food drive with The Preston & Steve Show
We may be  forgetting some things but as we  look at this list of accomplishments, done by people with full-time jobs, our own pets, all active volunteers at the shelter we support (Philadelphia's animal control shelter- ACCT Philly), we are blown away and know

we never could have done it alone

.
You are the fuel for our fire.
Now we are off to take a quick nap and get back out there because 2014 is going to be bigger and better and we can't do it without you!
On behalf of the Board of Directors for Philadoptables – John, Christa, Jeanie, Lori, Marta, and Michelle- and the homeless shelter animals of Philadelphia,
we THANK YOU for your support
.