---
---
Our 2018 Hunks for Hounds calendar is here and it's fantastic!
There are 13 hunky animal-loving models!
All animals in the calendar are rescues!
This year's calendar is HUGE 10 x 14 in size and is still $15 in person, $20 by mail US.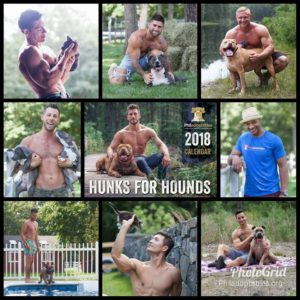 We are proud to say that 100% of the sales from this calendar go toward our lifesaving work. By purchasing this calendar, YOU are helping us provide medical instruments, clinic supplies, pet food, support for local rescues & foster parents (plus much more!) for the homeless animals of Philadelphia that need our help.
Show your support and finish your holiday shopping early by ordering a calendar for each of your friends! They'll love the photos and the fact that the gift supports a great cause!
We want to say THANK YOU to everyone that donated their time and resources to the creation of this calendar: our hunks, volunteers, graphics guy, and printer!
Please take a moment a visit our photographers' business page. Once a year the amazing Jamielynn transforms from newborn photographer to hunk photographer and we love her for it! lifecapturedbyjamielynn.com
Orders placed will ship within 36 hours!
Customers ordering 3 or more calendars will be sent a private link for bonus, unreleased photos of the models!