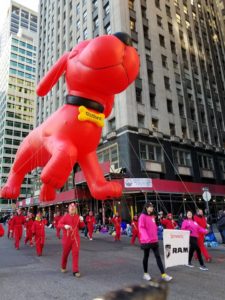 It is our favorite time of year… BALLOON HANDLERS are needed for the 6ABC Philly Thanksgiving Day parade on November 22nd! This televised event is so much fun and you will be finished before noon. While we wait to find out which balloon we will be handling this year, WE NEED VOLUNTEERS TO SIGN UP now!
Click the link above, enter your info, click YES I want to join a team, select PHILADOPTABLES from the drop down menu, click 'balloon handler' as your 1st preference, and finish!
Once signed up please let us know by contacting us at john@philadoptables.org!
You can also help blow up these massive balloons you see on TV before the parade – an unforgettable experience. Let us know if you want to help.
Check out photos from last year's parade here