---
Michelle Helms
Founder and President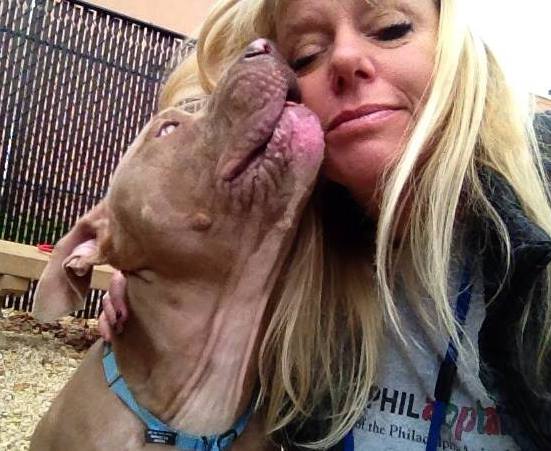 Philadoptables' President and founding member Michelle Helms began volunteering with Philadelphia's homeless animals in 2007. At that time, most of the dogs and cats that entered the open-intake animal shelter did not leave alive. She recognized a great need, and founded Philadoptables in an effort to save more lives. She focuses on increasing adoptions, socializing animals and recruiting volunteers. Her goal is the transform the way animals are viewed in society: As valued companions, and beings worthy of kindness, respect and care.
Michelle and her husband Dave live in Bucks County and share their home with their many rescued senior dogs. Michelle is an HR professional and a Cum Laude Temple University graduate.
---
Diana Bauer
Vice President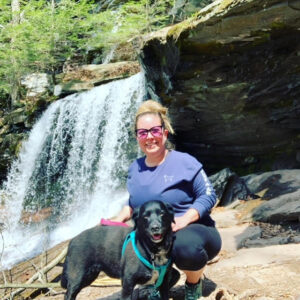 Diana grew up with dogs and cats and has always loved animals! She started volunteering at ACCT in 2012. Diana assists with planning fundraisers for Philadoptables and networking with other rescue groups. One of Diana's main passions is for helping community cats. Community cats are stray cats that live outside. Diana assists with trapping these cats and getting them spayed and neutered so they are not contributing to the overpopulation of homeless animals.
Diana lives in Allentown PA with her adorable lab mix pup Lilly and cat Nemo. Diana also fosters kittens and cats through a rescue in the Lehigh Valley. She graduated from West Chester University in 2005 and works as an underwriter for an insurance company.
---
Ali Swiatkowski
Marketing Director
From rescuing injured birds to picking up loose dogs, Ali has, for as far back as she can remember, felt an attachment to all living creatures, and a deep need to protect them. She adopted her pit-bull terrier mix Daphne in 2013 from a North Carolina shelter and "failed" at fostering her dog Marni in March 2017, adding another to her pack. She has a soft spot for pit bull-type dogs, as these tend to flood open-intake shelters; and she focuses her life-saving efforts on those that are time-stamped for euthanasia at ACCT Philly.
In 2015, Ali started volunteering for Philadoptables, managing its Instagram account and helping with other communications needs. Her marketing and networking skills have been instrumental in growing the organization and awareness generally of the many, many ways people can help homeless animals. In her spare time, Ali enjoys creative projects, hiking, golf, snowboarding and all outdoor activities involving dogs.
---
Sandy Boyle
Treasurer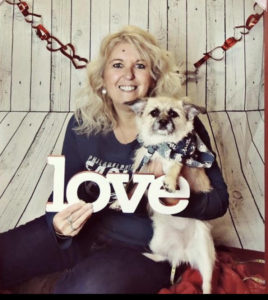 In 2015, after her experience fostering and adopting a stray dog, Sandy realized the dire need for more animal rescue volunteers and advocates, and began volunteering with Tiny Paws Rescue. Two years later, she joined Philadoptables and also became an ACCT Philly volunteer.
For many years, Sandy has served as a business consultant for Wells Fargo, where she is also a board member for their local volunteer chapter and team member networks.
She lives in Philly with her husband Sean, has two daughters and three rescued dogs. She also enjoys volunteering and supporting other non-profit organizations such as Career Wardrobe and Women Against Abuse, as well as many local rescues.
---
Dave Cruise
Board Member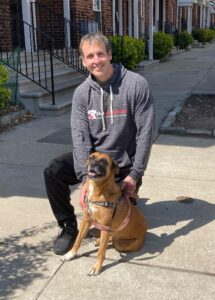 Dave was the kid who always asked Santa for a puppy!
He is the proud papa of rescue dog Clover – both are featured in the Philadoptables' 2022 Hunks for Hounds calendar!
Clover even has her own webpage "Clovers Corner Adoption Gallery", which features a new adoptable pet every day!
Dave lives in Philly, and other than hanging with Clover, he loves being active outdoors and naps…there must be naps.
---
Philadoptables would like to thank our former Board Members — Jeanie Dougherty, Christa Policella, Marta Gambone, and John Witherspoon — for their contribution to the ongoing success of Philadoptables.