Fostering provides a second chance for many dogs and cats to find a loving home. Foster care volunteers provide temporary care for kittens, puppies, dogs and cats. Some animals may only need a home for days, while others may need several months of care. By offering your time, energy, and home to an animal in need, you prepare an animal for adoption into a permanent home as well as prevent overcrowding in the Philadelphia City Animal Shelter.
The staff at the Philadelphia Animal Care and Control Team will match potential foster parents with dogs and cats that are a fit with the foster's schedule and the needs of the animal. If you work from home, maybe a kitten or puppy would be suitable. If you work long hours outside of the home, perhaps a senior dog or cat would find themselves temporarily happy under the safe shelter of your home. Whatever the lifestyle, there is sure to be a dog or cat that would be a good foster match for you.
Why are fosters needed?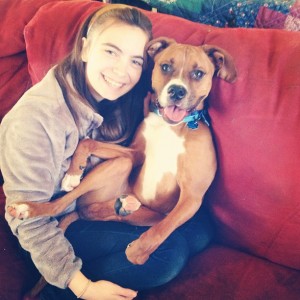 1. Shelter overcrowding. Fosters free up kennel space to make room for incoming animals. Overcrowding, without a network of fosters providing additional shelter options, results in lower save rates.
2. Injury and illness. Many animals coming into the shelter may need special care to recover for injuries or illness before being able to go into an adoptable home or rescue. All medication and medical care is provided free of charge by animal control.
3. Extremely young kitten or puppies. These animals may not yet be weaned and require special care and feeding, which shelter staff may not be able to adequately provide.
Without fosters, Philadelphia's animal control save rates drastically drop.
Why should I become a foster parent?
We believe that the abandoned and abused animals that enter our shelter deserve to have the best possible chance at finding a loving, permanent home. A foster parent has one of the most important jobs at the shelter. Foster parents allow our animals to receive the proper care and attention they deserve as they wait for adoption. As a foster parent you'll not only save the lives of animals in your care, but you'll give other animals coming into the shelter who may not need the same level of medical attention, a space on our adoption floor to find their own loving homes. If those aren't enough reasons to become a foster parent, consider these:
Foster animals are temporary companions offering their love freely.
You'll be helping to socialize a shelter animal so they become more adoptable and better companions.
You can put that spare bedroom to good use.
You'll delight at the smiles on the faces of the family that adopts your foster animal and possibly make new friends along the way.
Fostering helps you explore many different breeds of dogs and cats to help you decide which traits you'd like in your next companion animal.
If for some reason you can't keep a full-time companion animal, fostering for short time periods is an ideal solution.
You'll know that you're making a huge difference in the lives of your fosters.
If you are interested in becoming an active foster, please contact us at [email protected].  You can also check out the ACCT Philly Pen Pals program on Facebook for animals in need of foster care and the Philly Urgents Facebook page for shelter pets in critical need.