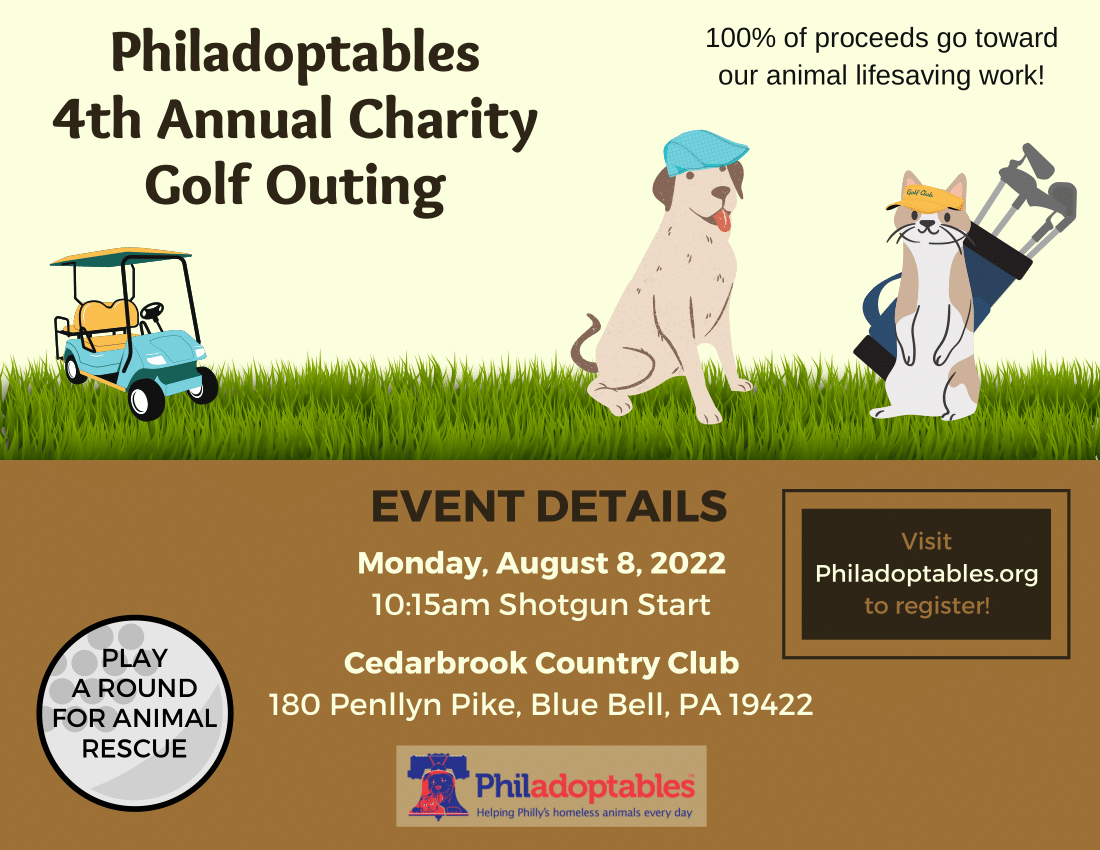 Date:  Monday, August 8, 2022
8:30 – 10:00 a.m. – Registration and Breakfast
10:15 a.m. – Shotgun Start
2:45 p.m. – Lunch
Where: Cedarbrook Country Club, 180 Penllyn Pike, Blue Bell, PA 19422
Questions: [email protected]
Philadoptables is hosting our Fourth Annual Charity Golf Outing on Monday, August 8, 2022 at Cedarbrook Country Club in Blue Bell, PA. All proceeds from this event will go toward our efforts to help animals in need in and around Philadelphia. These activities include:
Funding emergency surgeries for foster and shelter animals
Providing food, medical equipment and other supplies to local rescues and shelter organizations
Funding medical care and spay/neuter surgery for community cats (aka stray or feral cats)
Assisting pet owners experiencing financial hardship by providing food, supplies and helping pay for
medical care (so that they don't have to surrender their pets)

Sponsorship opportunities are available! We are seeking businesses that would like to show their support for animal rescue by sponsoring our 2022 golf outing. There are sponsorship options for every budget from $100 for a tee box/hole sponsor to $5,000 to be our presenting title sponsor (and plenty of options in between). Many of the sponsorship options include spot(s) to golf in the outing!
To learn more about sponsorship options, email us at [email protected]
We are primarily seeking business sponsors; however, we also greatly appreciate any prize donations for the event. Gift cards, gift certificates, tickets or anything that fits in an envelope can be mailed to: Philadoptables P.O. Box is 1098, Southampton PA 18966.
For larger items, we can make arrangements to pick up items that are local or they can be mailed. Please email us at [email protected] to arrange.
Link to sign up for sponsorship: https://form.jotform.com/220625804689160