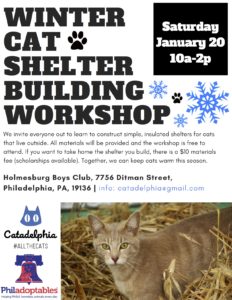 We invite everyone out to learn to construct simple, insulated shelters for cats that live outside. All materials will be provided and the workshop is free to attend. If you want to take home the shelter you build, there is a $10 materials fee (scholarships available).
Together, we can keep cats warm this season!
WHERE: Holmesburg Boys Club, 7756 Ditmas Street, Philadelphia PA 19136
WHEN: Saturday, January 20, 2018; 10a – 2p
QUESTIONS: catadelphia@gmail.com

Click to share and RSVP!